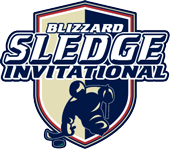 2012 London Blizzard Invitational
Sledge Hockey Tournament
January 27- January 29, 2012
Western Fair Sports Centre, London, Ontario, Canada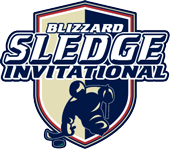 Tournament Over for Another Year
Another year, another great tournament. Fun was had by all and the competition just keeps getting better. This year's tournament saw the introduction of the Intermediate C division as well as having a truly international flavor with the Russian Paralympic team, split into a White and Red team. The Russian teams played in the Intermediate A division and met for the Gold medal game, where Mayor Joe Fontana greeted them and dropped the ceremonial puck. This was their first trip outside the European continent and we are happy and proud that they chose to attend our tournament. The Russian players displayed great hockey skills, speed and team play and attracted many people to their games. The Intermediate A teams had the opportunity to play against a national caliber team and it was a valuable learning and competitive experience for all of our players and teams.
Congratulations to all those who participated and volunteered to make this the best Sledge Tournament around.
Congratulations also to all the 2012 Champions, we hope to see you return to attempt to defend your 2012 title.
Results of the Tournament
Intermediate "A"

Gold Medal Game

Intermediate "B"

Gold Medal Game

Russia White
Russia Red
1
2
Michigan Sled Dogs
Elmvale Bears
0
1

Bronze Medal Game

Bronze Medal Game
Cruiser Sports All Blacks
Le Transat de Montreal
1
3
Mississauga Cruisers Red
Markham Islanders
4
1
&nbsp

Intermediate "C"

Gold Medal Game
Bronze Medal Game
Les Demons Roulants de Laval
Northumberland Predators
2
1
Cruiser Sports Silver Streaks
Brant County Crushers
1
5
&nbsp

Sledge Development

Gold Medal Game
Bronze Medal Game
Edmonton PSA Blades
Ohio Blades
3
1
Buffalo Sabres
KW Sidewinders
2
7